Lodgesons Spinner Knob
Steering Aids & Spinner Knobs
Product Code: R210/3
Description:
Lodgesons quick release steering ball for the R200 keypad.
The steering ball can also be purchased on its own as a manual steering aid and has the same great features.
Functions Available: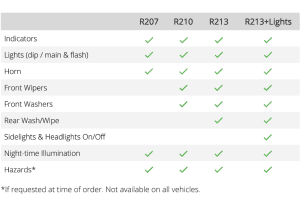 The Lodgesons multi-function R200 spinners enable you to safely steer the car whilst operating the secondary functions (eg indicators and wipers) with just one hand.  Simply pressing a button activates the required function.
The keypad will control the functions in the same way as your car's own controls and therefore functions may vary slightly from car to car and to those listed below.

Tilt and rotate keypad
Easily removable from steering wheel
Lubricant free design – no more grease or oil!
Soft touch grip that greatly increases driver comfort
Get in touch for a consultation from our team!
We work with the best brands to provide our customers with
high quality products and solutions