AL815CC Ute Mounted Wheelchair Hoist
External Wheelchair Stowage
Product Code: AL815CC
Description:
Lightweight and Economical
Harmar's Crew Cab lifts offer a quality choice in capacities to handle most mobility devices. Each offers powered lifting and rotation with a boom that adjusts in both height and length for more flexibility in installation and use.
Pendant Controller:
Easy-to-grip base with soft, non-slip rubber coating
Backlit buttons for night use
Built-in LED flash light to assist with visibility while loading
On-Off button with shut-off timer to prevent unintended activation
Magnetic backing for convenient stowage
Attractive, modern aesthetics
Delivers chair close to driver orpassenger side door
Powered lifting and rotation
Only two motors to control with removable hand control
In-cab remote control extensionincluded
Lifting Capacity: 135 lb (61 kg)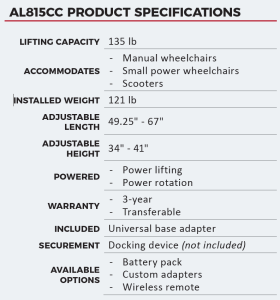 Get in touch for a consultation from our team!
We work with the best brands to provide our customers with
high quality products and solutions